About Us
Hi there! We're Tim and Joey, the owners of Sleepy Hollow Handmade. We love all things fragrance and color, and are excited to share our creations with you! We're both Pittsburgh natives and live on Sleepy Hollow Road (hence the name). We met in 2012 and got married at the Pittsburgh Zoo & PPG Aquarium in 2017. 
Sleepy Hollow Handmade is our side business and passion project. By day, Tim works in a school district as a Speech-Language Pathologist while Joey works as a project manager in commercial real estate. In our free time, we enjoy cooking, baking, watching TV and listening to music, spending time with our pets (our dog Molly and two cats Neville & Chloe), and making soap!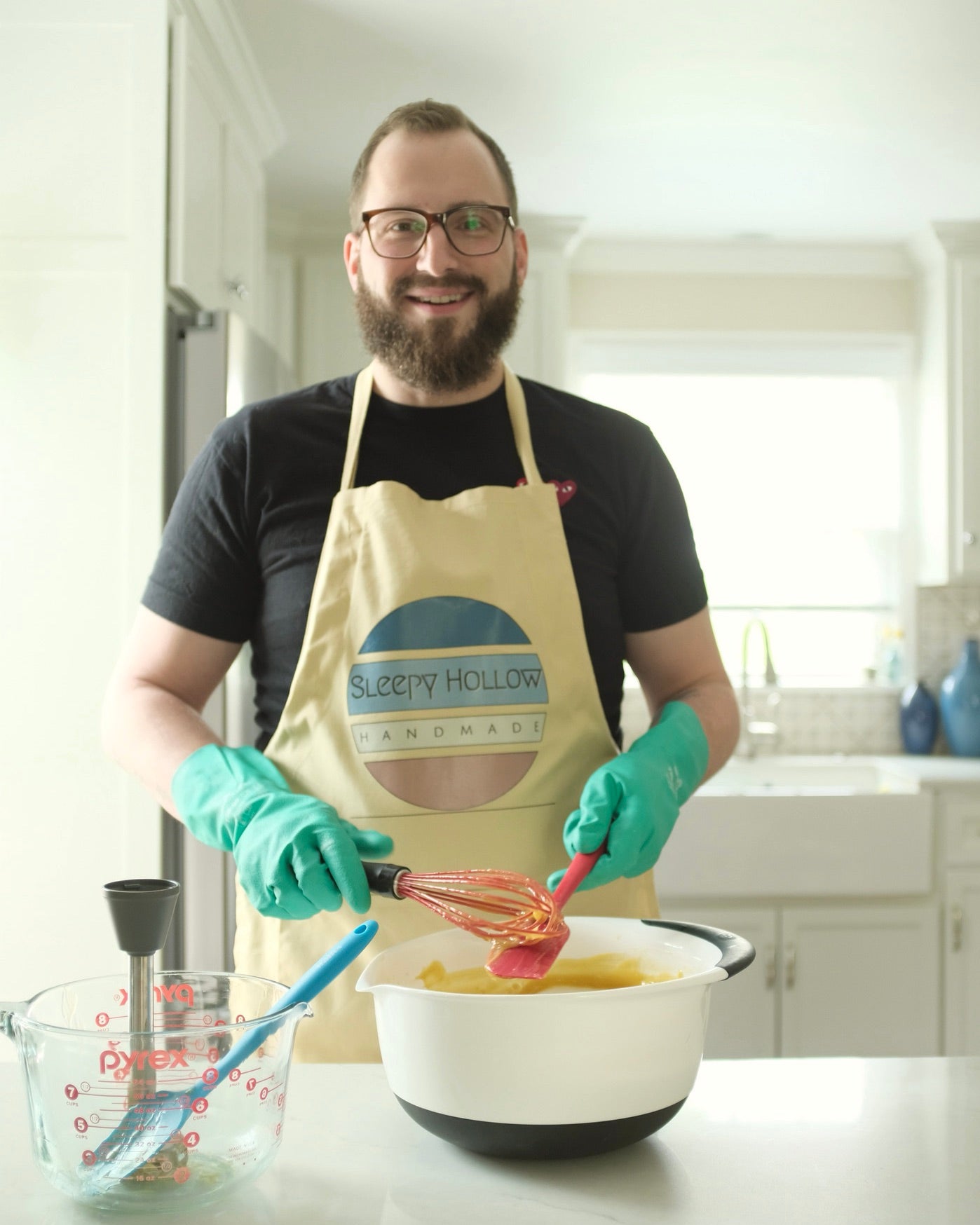 Our Journey
Tim started making soap in 2019, after spending a few years working retail at a local soap shop. We have always been drawn to unique fragrances and fun colors, and soapmaking was a hobby that allowed us to experiment with both.
Throughout the pandemic in 2020, Tim continued to play with soap, creating new designs and enjoying the process. During this time, seeing how much our family, friends, and strangers online were loving Tim's creations, Joey continually encouraged Tim to grow his hobby into a business. After months of encouragement, we opened the business and sold our first bar of soap in July 2020. Since then, we've continued to enjoy selling our products online and at various in-person events throughout our hometown of Pittsburgh, PA. 
Collapsible content
Sustainability

As a business (and in our personal lives), we strive to be as sustainable as possible. We maintain sustainable business practices where possible and always make an effort to avoid single-use plastics. To that end, we also make every effort to use only the friendliest of packing materials. Rather than packaging our soaps in plastic or shrink-wrap, we use recyclable, Kraft boxes and shipping materials. The ingredients we use are also carefully selected for their ability to be sustainably sourced. For many reasons, including the lack of sustainability in its cultivation and the harm to ecosystems, we never use palm oil in our creations.

When making soap, we often have a surplus of leftover batter and other scraps, which we re-batch into new soaps (such as our Hippie Hooray confetti soap). With any soap that we can't utilize for our own business purposes, we have partnered with Eco Soap Bank. Eco Soap Bank is a Pittsburgh-based humanitarian and environmental non-profit organization working to save, sanitize, and supply leftover soap scraps from manufacturers for the developing world. In addition to their efforts to reduce waste in the soap manufacturing industry, Eco Soap Bank also works to provide jobs and free education to women in disadvantaged communities across the globe. Since 2014, Eco Soap Bank has supplied more than 3.5 million people with soap and hygiene education. 
Inclusivity

As a brand, we also value inclusion. To us, that means a few things. Having grown up queer, we both know what it means to be not included at times. This has helped to shape our view that all people are welcome to share in the joy and beauty of our creations. We also believe that all people deserve respect and equal treatment in all areas of life, and we do not support efforts to exclude or oppress any groups or individuals.

We also pride ourselves in being a 100% vegan business. When you shop with us, you will never have to question the ingredients used in crafting our stunning creations. We share the ingredients list for every single product, and you will find that not a single item is crafted using animal products. That's right -- no animal fats, no milks (other than coconut milk), and no honey! If those are ingredients you like to find in your soaps, we totally understand that, and would be happy to connect you with one of the other amazing craftspeople out there who does use those ingredients! In addition to only using vegan ingredients, we only ever test our products on ourselves (and other humans!). While we are not vegan ourselves, we believe being an inclusive business is important so that our amazing soaps can be accessible to all. 
Kindness

As a brand value, kindness means a few different things to us, as well. First (and this goes along with inclusion), we feel that all people should be treated kindly! We are simply blown away by the love and support we receive from our customers, and we always strive to treat them (you) with the respect they deserve! We believe that it doesn't take a whole lot to provide a good customer experience, but sometimes it's worth making the extra effort to provide a great customer experience. We are always willing to go the extra mile for our customers, and want to make sure that shopping with us is viewed as a positive, enjoyable experience.

We also think that kindness to oneself is just as important as kindness to others. In that regard, we aim to make sure our customers are taking care of themselves! Bathing isn't just about cleaning your body, it's an act of self-care. Each time you step in the shower and use one of our soaps or other creations, we want you to be taken to a place of calm and joy. We pride ourselves on using simple ingredients to make certain that your body is treated with the respect (and kindness!) it deserves. All of our handmade soaps are beautifully fragranced and carefully crafted to entice all of your senses so that even a quick, five minute shower is more than enough time to show yourself some love and kindness.
Quality

Finally, we are committed to quality. Our soaps and other bath goodies are all crafted with an attention to detail. We use only the finest ingredients, and we put in a lot of time to make sure we source the best colors and fragrances. We dedicate our time to designing every single item and we care that it looks as stunning as it smells and feels. Our soaps, by extension, are a representation of us, and we would never want to put something out that doesn't live up to our high standards.